By Connie Cortright
I found myself facing an interesting question this week when doing research for my work in progress. How would the German prisoner-of-war camp in New Ulm, Minnesota return the correct laundry to each of the POWs? Not too many people consider this an important topic today, but with my mind mostly in the past these days, I found this an intriguing question.
Notice the PW stamped onto the legs of their pants.
Once again I was digging deep into tidbits of history. This time it was the 1940s. It started when I read a fictitious story about a WWII POW camp. When prisoners entered the camp, they each received their shirts, pants, etc., with each article of clothing marked with their ID number. The author mentioned that all the pieces were marked with a laundry pen. My curiosity was aroused-- were there really laundry pens in 1945? So I decided to look on the internet to check it out.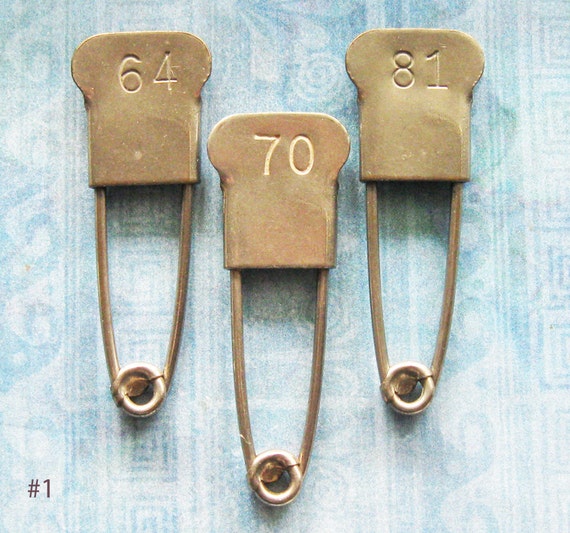 With a bit of research, I found out that the laundry marker pen was in reality a
laundry
marker pin
. The pictures of antique safety pins I found online had a number stamped in the head of them. I didn't find much of a description on how the pins were used, however.
They were described simply as WW II Military Laundry Markers used to keep track of each person's laundry. I would imagine that they were found more often at training camps in the States and not in the field of operations. Who would have time to do laundry at all in the middle of a war, much less try to keep track of a person's laundry?
Now it's time for some brainstorming to answer the questions in my head--how were these used in a WW II prison camp? I'm imagining that the laundry marker pins would not be given to each of the POWs (or PWs as they were known then) since that pin would certainly be used to cause damage to a guard on duty, or fellow prisoners. So, then I'm imagining that the Germans who were assigned to the laundry duty would have the pins in the laundry room and attach them to the PW's clothes as they were brought in. As you see in the picture of the complete set below, drawer C1 has several pins in the drawer, so prisoner C1's clothes would all be pinned with his specific number.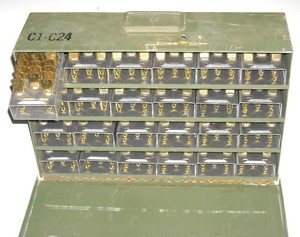 Complete set of military laundry pins set C1-C24
So the next question popping into my head--how did they assign the numbers that were on the pins to a certain PW? I'm imagining that each barrack in the camp had a different letter to identify it with twenty-four PWs in the barrack. That way C22 would be the twenty-second bed in barrack C. His drawer would be the twenty-second drawer in the C set of pins.
That means that a German PW doing laundry duty would be handed a pile of dirty clothes from PW C22. The worker would then pin C-22 onto all the clothing, throw it into the washing machine with all the other marked clothes. When they'd be clean and dry, the worker would make a pile of C-22 clothes and return it to whoever C22 was with the pins taken out.
In reality who knows what it was like, but in my third novel, that's the way I'll portray it. Now you can see how this is such an important and life-changing research topic. Not really! In the long manuscript of a novel, this small fact may appear on only one or two pages, but it was important enough to me to take the time to research and find out as much as I could about it. It happens all the time in the life of a writer.
May your week be filled with more important facts than this one!!
Information taken from
World-War-2-Military-Laundry-Marker-Pin